On the Hunt for New Treatments
September 21, 2023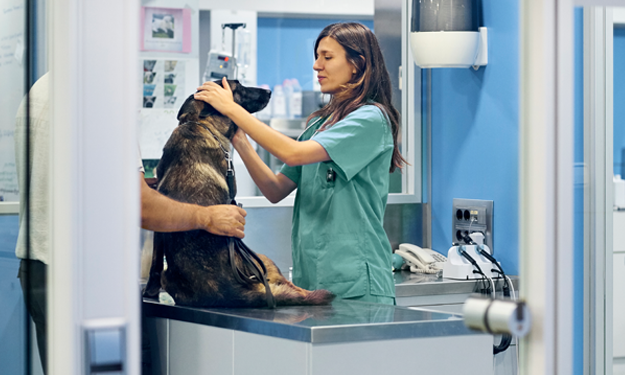 This excerpt was originally published in The Fountain Report 9-15-2023
---
Ethos Discovery Seeks Solutions for Animals With Complex Medical Problems
Ethos Discovery has over 50 scientific collaborators in five countries, specializing in a wide variety of scientific disciplines in both human and animal health-focused organizations.
To date, much of Ethos Discovery's work has been in oncology. That's no surprise, given [Dr. Chand] Khanna's interest and expertise in the subject. For some time, Khanna has studied osteosarcoma and hemangiosarcoma, aggressive cancers in dogs with similar human counterparts. Out of this interest in hemangiosarcoma and the recognized unmet need for patients, has grown a nationwide randomized clinical trial involving 400 dogs.
Early results from this prospective research have already created new knowledge, Khanna said. Conventional care requires surgical removal of the spleen to save dogs with hemangiosarcoma, he noted. Traditionally, pet owners have been cautioned by their veterinarians that many dogs struggle to get through the surgery given the risk of bleeding, cardiac events, and other consequences, let alone survive the long-term effects of cancer. This often leads owners to choose euthanasia. "But we have found that was a misinformed decision," Khanna said. "Our research has shown that most dogs survive splenic surgery well. New knowledge also found that the chance that the splenic tumor is benign and likely cured with surgery alone is much more common than previously expected. Beginning with surgery is a good idea, and people should include this new knowledge as they plan care for their pets."
Other examples of promising studies from Ethos Discovery include improved care for patients undergoing chemotherapy via faster identification of low white blood cell counts and resulting risk of sepsis; and improved care for dogs and cats with pneumonia by developing a diagnostic test that takes hours rather than days to determine if bacteria in the lungs is antibiotic-resistant.
Another successful area of study zeroed in on pug dog encephalitis, an inflammation of the central nervous system most common in small-breed dogs. Dogs afflicted with it typically come to the clinic with seizures, stupor and sometimes blindness and often die in weeks. Ethos Discovery research led by clinician-scientist Dr. Rebecca Windsor has identified an early form of the disease that may respond favorably to novel stem cell therapy.
Identifying areas for research, funding it and publishing results are all part of Ethos Discovery's mission.
---